Connolly Crack Inducers are an economical surface crack control strip for small pours and decorative concrete applications. Installed in wet concrete, Connolly Crack Inducers eliminate the need for tooled or sawn joints and protect the joint against the ingress of foreign particles.
Connolly Crack Inducers are a roll-formed galvanized steel section available in 3m lengths. They are available in 25mm and 45mm heights and can be supplied with or without a permanent, flexible PVC capping. The permanent PVC capping is available in a range of colours and comes with a tear-off-strip to allow for a slurry-free finish.
Features
Permanent capping with Tear-off strip
Replaces saw cuts
Available in black or grey
Allows for a slurry-free finish​
Step 1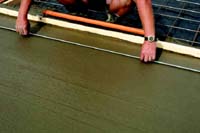 Immediately after screeding concrete to the finished level, lay the Crack Inducer (with or without capping) with its bottom edge along the proposed joint line.
Step 2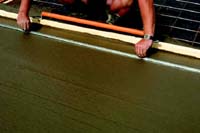 Roll the Crack Inducer so that it is vertical and wriggle it into the wet concrete until the top edge is flush with the finished level of the slab.
Step 3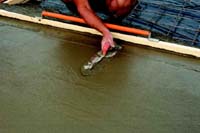 Trowel along the Crack Inducer to fill any voids created during placement. Complete finishing operations and application of any applied finishes.
Step 4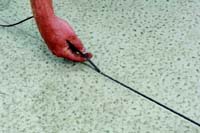 If capping was used in the installation, remove the tear off strip by carefully pulling it back along the length of the joint
Use the form below to send us an email with your enquiry or request for drawings.