Connolly Universal Dowel Sleeves are available for round and square dowels, to allow for load transfer across joints in slab-on-ground applications.
The sleeve encases one half of the dowel to de-bond the dowel from the concrete. All Connolly Universal Dowel Sleeves allow for expansion and contraction at the joint. Square dowel sleeves also allow for lateral movement at the joint.
The Universal Dowel Sleeve is equipped with a patented, integrated support leg, which can be adjusted to suit multiple slab heights. This unique feature assists with accurate dowel alignment.
Utilising the patented twist-fix feature, Universal Dowel Sleeves work in conjunction with our range of Key Joints, Expansion Joints, and Straight Up Contraction Joints.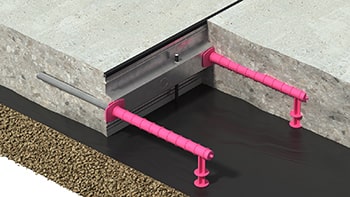 Key Joint 150mm with Universal Dowel Sleeves for 16mm round dowels
With the included nailing plate, they can also be connected to conventional formwork.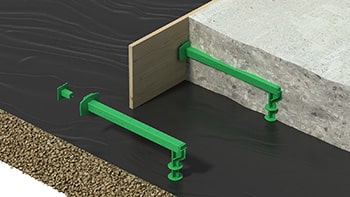 Universal Dowel Sleeve for 16mm square dowel with nailing plate
Injection moulded from polypropylene for accuracy and straightness, the UDS range minimises the vertical movement across the joint.
All our sleeves are colour coded for ease of identification.
Features:
Twist-fix feature provides alignment of dowels for unhindered slab movement
Integrated foot provides extra stability to ensure correct alignment
Tear-off feet allow for height adjustment (UDS 16-24mm)
Square dowel sleeves allow for lateral movement
All sleeves include a compression zone for expansion
Includes nailing plates for fixing to formwork
Unique end closure prevents slurry entering around square dowels
Injection moulded to achieve maximum accuracy​
For use with formwork:
Flick a chalk line along the form board at the centre of the slab thickness. Nail the face fixing caps onto the form board with the supplied nails. Insert sleeves onto the fixing caps prior to pouring the concrete. To make the job easier the sleeves can be installed after the reinforcement has been laid and chaired. The face fixing caps can also be screwed to steel formwork using self-drilling screws.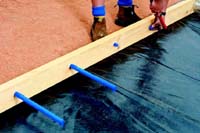 When concrete has hardened, the form board can be stripped to expose the open end of the sleeves.
If specified apply expansion material to the slab face and insert the appropriate dowels into the sleeves as the next pour is being prepared. To eliminate tripping, the dowels can be installed after the groundwork has been completed for the adjacent pour.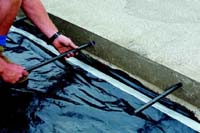 For use of Universal Dowel Sleeves in conjunction with other Connolly jointing solutions, please refer to the appropriate installation instruction.
Universal Dowel Sleeves for round dowels
Product

EXJDS12R

UDS16R

UDS20R

UDS24R
UDS33R
UDS36R
Properties
Dowel Size [mm]
12
16
20
24
33
36
Sleeve Length [mm]
150
230 / 300
230 / 300
225
230 / 300*
230 / 300*
Recommended dowel length [mm]
300
450 / 600
450 / 600
450
450 / 600
450 / 600
End expansion [mm]
13
18
18
12
13
13
Integrated Foot to suit slab [mm]
100
125 / 150 / 200
125 / 150 / 200
150 / 200
NA
NA
Lateral Movement
No
No
No
No
No
No
Colour
Green
Pink
Blue
Brown
White
White
* – custom length available on request
Universal Dowel Sleeves for square dowels
Product

UDS16S

UDS20S
Properties
Dowel Size [mm]
16
20
Sleeve Length [mm]
230 / 300
230 / 300
Recommended dowel length [mm]
450 / 600
450 / 600
End expansion [mm]
18
18
Integrated Foot to suit slab [mm]
125 / 150 / 200
125 / 150 / 200
Lateral Movement [mm]
+/- 3
+/- 3
Colour
Green
Yellow
Use the form below to send us an email with your enquiry or request for drawings.